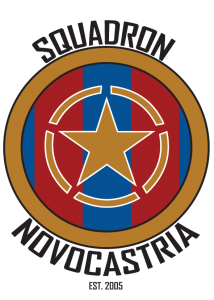 The Squadron Football Supporters Club has over the last few seasons attempted to increase our presence within the wider community. This has included the opening of memberships, chartering supporter buses, organising home and away day activities, and liaising with the club to ensure all fans can bring items to support the team into our home ground.
The next step is to ensure that we have a recognisable logo which distinguishes our activities from that of the club, and other groups.
The design of this logo is to demonstrate our support for the club, our recognition of history, and to provide us with a simple, easily recognisable name.
Squadron – Our name. It describes us as a collective. Every individual who joins us to support the team home or away should feel welcome under this banner.
The Red and Blue vertical stripes – recognition of the team we support. They are our home colours and significantly the match the vertical stripes used on our home playing kit.
Gold Circular border – Recognition of the colours we started the A-League wearing. Recognition of our history is essential to any future developments, either within the Squadron or the Club. The Squadron continues to advocate for greater acceptance and recognition of our history.
Gold Military Star (est. 2005) – Recognition of the Squadron's history. Our first logo. This is included to show continued respect to members of the Squadron past and present who have helped develop the group.
Novocastria – Our Region. It distinguishes us from the other Newcastle (UK), and we feel encapsulates the fan base of the Newcastle/Hunter/Lake Mac/Ports Stephens areas, and signifies our work to turn the stadium into a fortress.
We hope supporters approve of this new design, and we look forward to seeing you at a game supporting the Newcastle United Jets. We also invite you to visit the forums at newcastlefootball.net and join in the discussions around the Jets, NNSWFF competitions, A-League and Football in general.