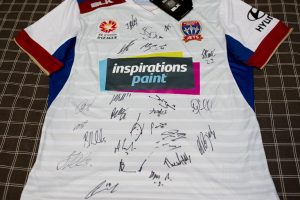 In this special edition of the Jetstream Extra, David (@Jeterpool) interviews Joel Goodsir (@joelgoodsir) – Head of Marketing for @NewcastleJetsFC away jersey sponsor Inspirations Paint (@InspPaint). Inspirations Paint have generously given us a signed away jersey to give away to a lucky podcast listener. All you have to do is listen to The Jetstream Podcast ep35 for the details.
We invite all listeners to send us any questions, comments, feedback, topics, etc you might have:
Facebook – facebook.com/JetstreamNewy
Twitter – @JetstreamNewy
email – podcast@newcastlefootball.net
Join the forums at newcastlefootball.net and go to The Jetstream subforum
Please leave us a review on iTunes if you like our podcast. If you havent already, please subscribe to our podcast feed via the links listed below.
**We have moved our podcast from jellycast.com to our website newcastlefootball.net Redirections are in place for the RSS feeds but please doublecheck to make sure your podcast software has updated to the new feed address.**