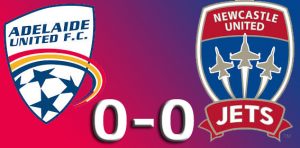 Welcome to the postmatch edition of our podcast – The Jetstream Extra.  In this Season 11 Round 7 edition, we have audio of the post-match press conference with @ScottGMiller after the @NewcastleJetsFC draw away to Adelaide United. David (@Jeterpool) interviews Jets supporter Joel at halftime, then both Joel and Peter after the game at the Lambton Park Hotel.
We thank Fox Sports for the presser audio as well as those supporters who gave their thoughts. We invite all listeners to send us any questions, comments, feedback, topics, etc you might have:
Facebook – facebook.com/JetstreamNewy
Twitter – @JetstreamNewy
email – podcast@newcastlefootball.net
Join the forums at newcastlefootball.net and go to The Jetstream subforum
Please leave us a review on iTunes if you like our podcast. If you havent already, please subscribe to our podcast feed via the links listed below.