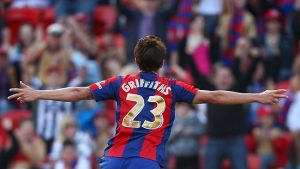 In this offseason episode, David (@JeterPool) interviews former Newcastle United Jets player Ryan Griffiths (@RyGriff).
They cover off a wide range of topics while discussing Ryan's time in Newcastle, his love for the town and the club, his memories of playing in some great games, various challenges that affected the club and how it affects the players, issues with club administration, differences between Branko Culina and Gary Van Egmond, playing with Emile Heskey, thoughts on impending Chinese ownership and other talking points.
Please click the link for podcast subscription and social media details or to play episode via embedded media player
If you haven't already, please subscribe to our podcast feed via the links listed. You can subscribe to the podcast feed via Itunes, Android or using the RSS feed for any other platform. Please give us an Itunes review and we will read it out during the podcast!!
**The Jetstream Podcast is now available via Stitcher**
Please click http://www.stitcher.com/s?fid=81552&refid=stpr to open the show via your Stitcher app.
You can also find us at Podcasts.com by searching "Jetstream"
We invite all listeners to send us any questions, comments, feedback, topics, etc you might have:
Facebook – facebook.com/JetstreamNewy
Twitter – @JetstreamNewy
email – podcast@newcastlefootball.net
Join the forums at newcastlefootball.net and go to The Jetstream subforum
Subscribe to
The Jetstream Podcast - an independent podcast created by and for supporters of the Newcastle United Jets FC, Hyundai A-League and Northern NSW Football
Or subscribe with your favorite app by using the address below
Podcast: Play in new window | Download (Duration: 46:41 — 42.8MB) | Embed
Subscribe to The Jetstream Podcast: Apple Podcasts | Android | Google Podcasts | Stitcher | TuneIn | Spotify | RSS | More