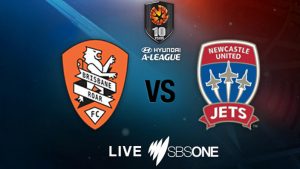 Welcome to the postmatch edition of our podcast – The Jetstream Extra.  In this Season 11 Round 19 edition, we have the audio of the post-match press conference with @ScottGMiller after a credible @NewcastleJetsFC draw away from home against the Brisbane Roar.
David (@JeterPool) interviews Michael (@BodyNovo) and then Joel (@JoelGoodsir) who were all in the away bay at Suncorp Stadium and gets their thoughts and insights on the game.
As a treat we also have audio of Dave, Furns, Michael, Emma and Waspy answering submitted questions from listeners. This was recorded after we completed recording Ep50 at Wests New Lambton last week.
Please click the link for podcast subscription and social media details or to play episode via embedded media player
Continue reading The Jetstream Extra – POSTMATCH Brisbane Roar 2 – Newcastle United Jets FC 2 →