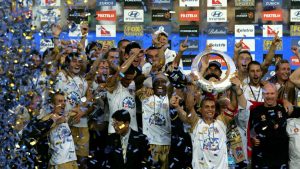 The Jetstream are excited to present the next teaser for the upcoming special podcast series – The Championship Chronicles
In this trailer of the Championship Chronicles you will hear from Noel Spencer, Tarek Elrich and Jobe Wheelhouse as they reflect on Grand Final TIFOs, the manner in which the team gelled and when their best football was played.
Thank you to those who have left comments and messages of anticipation for the release of the series in November.
Please click the link for podcast subscription and social media details or to play episode via embedded media player
Podcast: Play in new window | Download (Duration: 4:51 — 6.7MB) | Embed
Subscribe to The Jetstream Podcast: Apple Podcasts | Google Podcasts | Spotify | Stitcher | TuneIn | RSS | More
If you haven't already, please subscribe to our podcast feed via the links listed. You can subscribe to the podcast feed via Itunes, Android or using the RSS feed for any other platform. Please give us an Itunes review and we will read it out during the podcast!!
Subscription links and previous episodes are all available at our podcast landing page newcastlefootball.net/podcast
**The Jetstream Podcast is now also available via Stitcher**
Please click http://www.stitcher.com/s?fid=81552&refid=stpr to open the show via your Stitcher app.
You can also find us at Podcasts.com by searching "Jetstream"
We invite all listeners to send us any questions, comments, feedback, topics, etc you might have:
Facebook – facebook.com/JetstreamNewy
Twitter – @JetstreamNewy
email – podcast@newcastlefootball.net
Join the forums at newcastlefootball.net and go to The Jetstream subforum
The Jetstream has now launched The Jetstream TV.
Please subscribe to our YouTube channel here https://www.youtube.com/channel/UCA7bRkewmMXTrcB9Eq3vJ1A