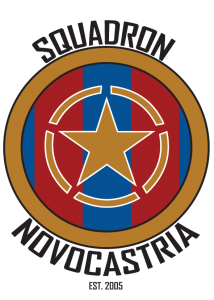 Fellow Supporters,
The Squadron FSC is pleased to announce we have come to an agreement with our Club in regards to active supporter measures for the 2014/15 A-League Season. This agreement will see The Squadron take our place in Bay 60 as normal, rather than the planned protest location on the Southern Hill.
This decision has been made after several discussions with the club. The Squadron would like to thank all supporters of the Newcastle United Jets for their support during this time.
What this agreement means:
* Single game memberships for Bay 60 will be available for purchase on match-days
* Single game memberships for Bay 60 will be available for pre-purchase at a discounted price to negate the effect of the ticket provider charges
* Non Active Jets Members will be able to swap their membership ticket for a Bay 60 ticket on match-days
This agreement ensures that all supporters will have the ability to join The Squadron in Bay 60 on match days and help us support our team throughout the A-League season.
The Squadron FSC believes that these measures address our concerns surrounding the restrictions on who can and cannot join active support, as well as the disadvantaging those of less means who may not be able to purchase a full season membership. We believe that the above ensures that Bay 60 is open to all to sample the type of support we create for the Jets at home games.
Due to the new restrictions, we were unable to see a complete removal of the collection of data to be held by the Club, however we were prepared to work with the Club on this in favour of other issues in order to achieve an outcome for the benefit of all supporters, and to see our return to Bay 60.
While we still disagree with the introduction of the restrictions by the FFA, particularly around restricting who can and cannot be involved in active support and the collection of personal data, The Squadron would like to thank the Club for being willing to listen to our concerns and reach an agreement which is beneficial to all parties.
We continue to enjoy a fantastic working relationship and clear communication with the Club on a wide range of issues and look forward to working with them in the future.
Thank you,
Squadron FSC Committee
Bay 60 Single game membership
Pre-purchase(incurs a $4.35 handling fee, and a 1.95% purchase fee)*
Adult $22
Concession $16
Junior $8
Family $50
Walk-up Single game membership
Adult $27
Concession $19
Junior $10
Family $60
To purchase a single game membership on match day please go to the assigned window at the Hunter Stadium box office. Note: single game memberships only include a ticket and do not gain benefits and inclusions afforded to full Newcastle Jets membership packages.
Those who purchased General Admission memberships are able to swap their memberships to Bay60 through the club. A cost of $10, or $1/month on the payment plan will be incurred.