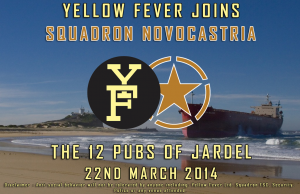 The Squadron and Yellow Fever supporters groups are joining forces on Saturday 22nd March to embark on an epic trek through Newcastle's fine alehouses prior to and following the game at Hunter Stadium between the Jets and the Phoenix.
This is a chance to meet some fellow football fans from Newcastle and across the dutch, enjoy some prematch tipple (in moderation of course), sing a few songs and generally have a brilliant time and all that.
The timetable is as follows:
11:00am  Customs House

12:00pm  The Brewery

1:00pm  Honeysuckle Hotel

1:30pm    James Squires

2:00pm    Dockyard

2:30pm   The Landing

3:25pm Train Civic to Broadmeadow

3:35pm The Tenzo

5:30pm Match

8:00pm The Premier

9:00pm Sydney Junction

9:30pm The Kent

10:00pm The Northern Star

10:30pm The Exchange
Everyone (over 18) is welcome, however anti-social behaviour wont be tolerated. Its meant to be a fun day out, anyone spoiling it will be asked to leave. There is a great relationship between our two supporter groups, so banter and bevvies are the order of the day not bellends.
If you are coming, please feel free to RSVP on the facebook event page https://www.facebook.com/events/513959625382013/