By Simon Kelly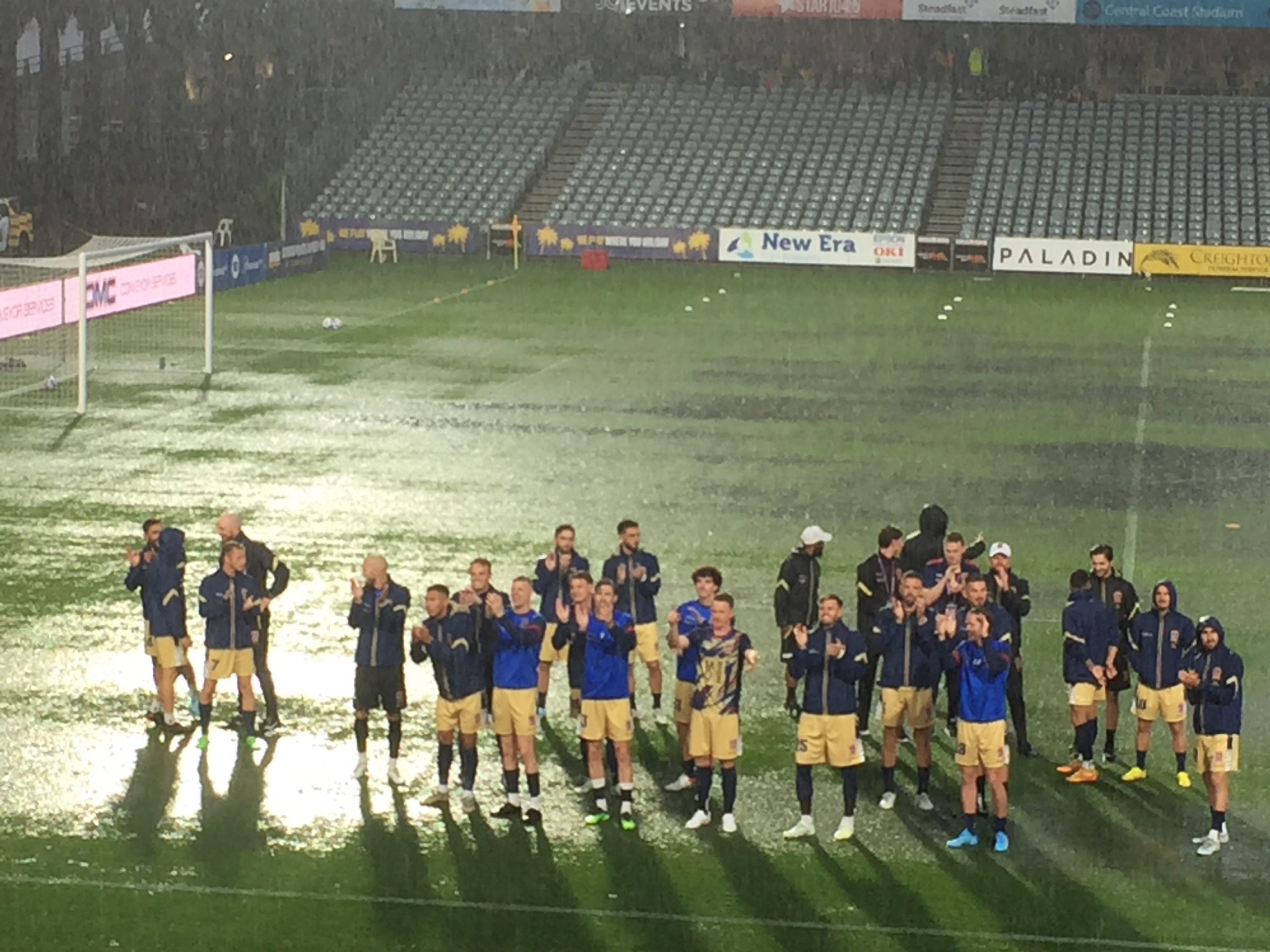 On the opening day of season 22/23 I was one of the few hundred that ventured south for the first instalment of the F3 Derby.
The weather in the form of NSW third La Niña took control of our day out and after some over extended deliberations the Round 1 fixture was called off due to a flooded pitch.
The crowd had sat patiently waiting, possibly even hoping for a minor miracle, and a game to watch. Fans in attendance viewed an osprey fly over the pitch with a fish in its talons. We did joke with all the water on the ground, if it was fortunate enough to be dropped, it could swim its way back into Brisbane Waters.
We watched the Matt Simon tribute and booed him just for old times sake.
One thing that I was confident about was that the weather would surely not play it's part and cause another Newcastle Jets game to be cancelled.
The Round 16 home fixture against Melbourne Victory produced some testing conditions for the players. A prevailing wind and 27 degrees of heat (crazy 3pm kick off, which apparently will be no more come NEXT season… why wait until then?!!?).
To the players credit they dealt with it and kudos to Beka Mikeltadze for stepping up to take the penalty (and score the opening goal). The ball continued to roll away from the penalty spot thanks to the
wind. The fact that he'd missed his last penalty must have made this all the more harder.
The 2-1 win was deserved and the unfortunate late non VAR call in favour of the Victory was an ironic situation that had social media tongues wagging and Jets fans wryly smiling.
The game against the Macarthur Bulls had already been sensibly put back an hour due to the expected high temperatures. What transpired as the fixture progressed was some of the freakiest weather conditions that the A-League has ever witnessed.
Thankfully the Newcastle players handled the conditions in the earliest part of the game well. Trent Buhagier got his fourth
goal of the season after a well executed pass from Kosta Grozos. The pass got the Jets striker in behind the defence and Jonathan Aspropotamitis inexplicably played the ball back across his own goal. Buhagier gratefully brought the ball under control and hit the back of the net despite Kurto getting a glove on it.
Jack Duncan proven his worth early in the game by reaching up and catching a ball that looked freakishly bound for a goal largely again due to the wind. I have to admit I've been one of Duncan's detractors, but his recent form is proving myself and many others to be wrong. Onya Jack and may your rich vein of form continue.
And then if the wind just wasn't enough the lightning ensued and the officials brought a halt to proceedings in the 14th minute. I've got to admit that Daniel Garb did a great job interviewing players and coaches and kept things interesting for the tv viewers.
More than hour and a half later the game resumed, but a little more than 10 minutes later the officials got the jitters again as lightning struck nearby. To be honest it was looking like they may abandon this game.
Full marks to everyone involved though, officials, players, coaching staff etc and of course the fans that stuck around ( including the very vocal travelling Newy supporters). The game resumed again at 8.35 eventually concluding at 10.
A staunch and resolute Newcastle Jets held out all the Macarthur attacking raids for a well deserved 1-0 victory.
This is now 6 games on the bounce undefeated for Newcastle. So what has changed in the most recent weeks?
The back four have looked progressively like a genuine defence. The
Jenkinson/Jurman centre back pairing for the most part is working. Jurman is looking like the player we expected last season and Jenkinson's experience and no nonsense approach is first rate.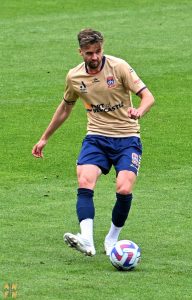 The starting fullbacks Hoffman and Ingham have played well too. Jason Hoffman shows no signs of giving the game away just yet. Some thought he'd no longer play the 90 plus minutes, how wrong those people are. Dane Ingham can frustrate Newy fans, but his performances this season are easily better than last seasons
campaign.
I also feel that the recent swap of James McGarry for Thomas Aquilina has worked in our favour. McGarry was good going forward but his defensive positioning left a lot to be desired. Not so Aquilina, who can and probably will play either side in the fullback role.
The recent injury to Reno Piscopo was a genuine blow for the team. Since switching to a more central attacking role had been a big part of the Jets recent resurgence. He'll be out for at least another three games.
Kosta Grozos has proven to be a handy replacement though, scoring the winner against Melbourne Victory and having an improved performance against Macarthur. Mo Al-Taay has genuinely surprised the Hunter faithful, with Brandon O'Neill injured, he has proved to be a very willing and capable replacement. One thing that's noticeable is his scanning, or lack of it at times. I'm sure Papas and the coaching staff will improve this over time. It does sound like O'Neill will be back very soon, which gives Arthur Papas a tricky selection decision.
Thurgate has been immense this season and probably Newcastle's most consistent performer. If he can add a few more goals that would obviously help, but he'll be a player hard to replace if he does get a coveted overseas transfer.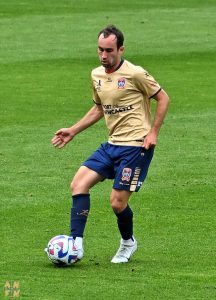 Beka Mikeltadze is yet to get anywhere near last years goal tally, but he is without doubt contributing. His work rate is phenomenal and his confidence levels are always high. More goals will come his way I'm sure.
Buhagier and Sotirio have been good acquisitions but I sometimes wonder why we aren't playing more balls in behind opposition defences. They're both speedsters and surely this is another way of creating more chances.
There's obviously more players that could rate a mention but Manabu Saito is our highest profile signing (at least in the attacking third) in at least four years. He didn't see much of the ball in his debut Jets game. It was though a classy cameo. Fantastic first touch, quick to look forward and go forward, whether dribbling or passing. Against Macarthur he took up some great positions, in space, which his own team mates weren't necessarily seeing. Once he's integrated fully into this side, I know we're going to be in for some champagne football.
The Novocastrians next assignment is a flailing Western United at home. If you haven't been turning up to watch (and plenty haven't) then get along to Turton Road for the 5pm kick off on Saturday. 26 degrees predicted and no sign of cyclonic storms.
Come On Newcastle.