By Simon Kelly
On Friday 13th approximately 250 members got to attend a Newcastle Jets trial match against WSW. This took place at the Maitland Regional Sports Facility and was scheduled to be three 45 minute thirds.
The Jets started proceedings with arguably their strongest available side and one that may well take the field for the round one fixture against Perth Glory.
Ryan(GK), Jenkinson, Hoffman, Natta, Mauragis (Back 4), Berthomier, Grozos, Ingham, Taylor (Mid 4) and Buhagiar, Stamatelopoulos (Forwards).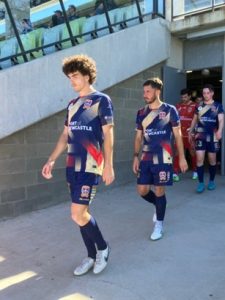 Newcastle dominated the first 45 and scored first through Stama. Great lead up play from Ingham, beating a couple of WSW players on the half way line, sliding the ball out wide to the on running Buhagiar. His cross evaded the central defender (somehow he failed to connect with the ball) and fell perfectly for Stama to side foot home. Stama later hit the bar and Ingham had a good chance blocked after a deft short pass from Frenchman Berthomier.
Berthomier was playing as a 6 and for the most part played in front of the backline. His cross field angled balls were pin point accurate. The only time he failed was with a straighter pass to Grozos. To me he looks like a good (potentially very good) acquisition. He's not combative, but maybe he doesn't need to be. Certainly not a player to replace Angus Thurgate, but a player that could be just as vital to this current squad.
WSW did score late in the first 45. Twice Newcastle failed to clear the ball. The second attempt landed fortuitously for Dylan Perias, in space just inside the box. His shot hit the inside of the post and then the back of the net. Other than conceding a goal my main concern is that we didn't finish good chances. A little more clinical in front of goal and a game can be won in the first half. Yes I know it was only a trial game.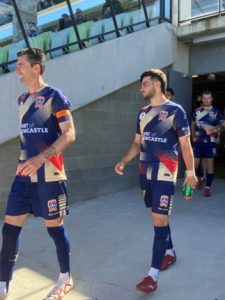 The second 45 saw WSW make plenty of changes eventually using all their available players. It has to be noted that some of their better players were sat in the stands. Ninkovic, Marcello, Brillante and their goalkeeper Thomas wasn't there at all. The Jets only made one substitute in the second stanza, clearly because their intention was to play the remaining players in the third and final 45 minutes.
Carl Jenkinson was given an early mark with Lachy Bayliss going on, but into Ingham's position, with Ingham taking over at right fullback. Buhagiar scored from close range after a peach of a cross from the wonderkid Lucas Margaris. I don't think you'll find a Novocastrian that isn't happy to see him back.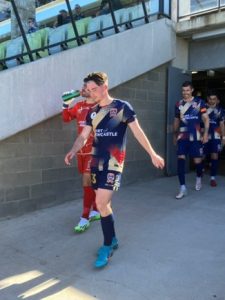 Clayton Taylor used his strength to bustle his way past defenders and into the box to get one on one with the keeper. His shot looked like it was easily saved. All his lead up work was top drawer but he failed to execute the most important part. This said Taylor looks like an exciting prospect. In some ways he reminds me of a young Adam Taggart. Plenty of upper body strength and very quick.
Unfortunately WSW scored after a mis-timed header from Ingham hit the top of the bar and gifted striker Blair with an easy nod over the line. Ingham complained to the referee about a heavy push in the back from a WSW player. To be fair it looked like he had a point. By the same token I believe that Jenkinson should have dealt with the situation better. Either headed the ball away or won the foul. On the plus side we hit the bar again with a 20 metre curling, dipping shot from the boot of Bayliss.
So the second 45 closed with the scoreline at 2-2.
Then things got a little strange!! Both clubs had previously agreed to play 3 x 45 minute thirds. WSW had a change of heart but didn't tell anyone on the Newcastle management/coaching staff. Understandably, Newcastle had good reason to feel aggrieved. The likes of Aquilina, Dowse, Cancar, O Neill , Weir, Timmins, Stynes and a number of other players had been going through their warm up routine during the second stanza.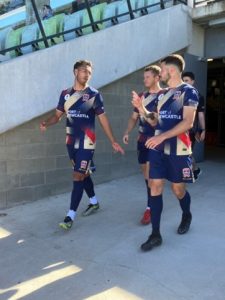 To me, this showed a lack of respect from those in charge of WSW. I thought the first rule of management was don't make promises you can't keep. Fine, if they'd had a change of heart – let someone know prior so we all have a level playing field. I'm 100% sure that most if not all those players would have played a part in the 90 minutes that was played if this had been the case. Rob Stanton will no doubt use all five substitutes come Round One over in Perth.
To get it back into the positive Newcastle are looking very exciting in attack. There have been plenty of goals in preseason and the Cup games. The young players that have been brought in are very hungry. Mauragis is playing very well and will be a major handful for any A-League player that he takes on. Ingham continues to improve. Stama and Buhagiar have hit the net plenty of times.
I'd be content with a draw over in Perth. Off the top of my head I think we've only won twice over there. Tough road trip, but personally I can't wait for this season to start. Bring It On!