By Simon Kelly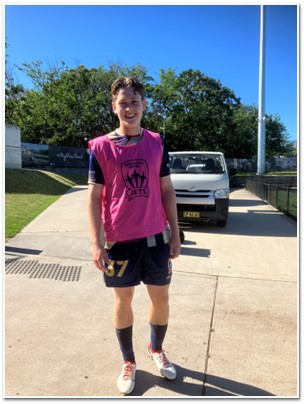 When I arrived a little early at the Maitland Regional Sports Facility it was quiet but for the chatter of the local birdlife, the movements of coaching staff setting up for the session and the sound of ping pong!
Yes there was a game of table tennis taking place. I sat back to take in the view from the Grandstand. Beautiful surface, and a great facility….ah the serenity.
The serenity didn't last though as the table tennis games became more competitive and the players loosened there vocal chords. Then the music kicked in. I haven't a clue as to who the artist was but safe to say it wasn't Jimmy Barnes. Gangsta Rap? UK Grime? Not my bag anyway so I went off in search of a quieter spot and to organise the interview with one of the Newcastle Jets more recent recruits, Lachlan Bayliss.
We initially chatted about Lachlan's early years. It transpired that he's originally from the Central Coast, but moved to Darwin at an early age and his initial junior football began there.
"Yeah playing in the Cup game up there was pretty good for me as I used to play on that ground as a kid. From Darwin the Jets sort of picked me up and from the age of twelve to sixteen I was here in the Academy. Then due to family circumstances I could no longer commute from the Coast, so I was at the Central Coast Mariners Academy from sixteen to earlier this year."
For the record Lachlan is now twenty one and basically he wasn't let go from the Jets it was purely due to family circumstance that he ended up with the Mariners.
Bayliss is listed with the Jets as a striker and looking at his last season with the Mariners in the NPL his strike and assist rate is pretty impressive, particularly when you take into account he played some of those games as a 6. Nine goals and ten assists in twenty one games. He was also the teams top scorer. His transition from Academy/NPL was quick. In fact, very quick.
"My contract ended on the 30th June and I played my last game with the Mariners on the Sunday. I started training here on the Tuesday. It was all pretty quick and then two weeks after that was the game in Darwin. So it was pretty awesome for me to go from playing NPL to A League opposition."
For those that can recall the Brisbane Australia Cup game in Maitland, Lachlan Bayliss was the surprise inclusion named up top alongside Trent Buhagiar. He got the nod ahead of more experienced members of the squad on this occasion.
"I probably knew a day before. I was obviously buzzing that I was going to get my first professional start. I think I'd been doing well so I think Rob wanted me to get a chance and gave me that opportunity."
The Brissy Cup game, although not a win, was a good learning experience for the Jets younger players. I picked out their uncompromising centre back and Captain Tom Aldred as a tough competitor to come up against early.
"He's definitely physical, experienced and got all the tricks. You've really got to be on your game. It was good I was able to learn quite quickly what works. If you get caught he's going to come and smash you."
Not surprisingly when Newcastle played Brisbane in a friendly/trial match a few days out from the Brisbane v Sydney Australia Cup Final Aldred was rested. The Jets roasted Brisbane 4-0, with Bayliss scoring twice, the first a penalty. To be honest I was a little surprised that a young player in the side was stepping up to take a pen.
"I do fancy myself as a bit of a penalty taker. I do love taking them. We had practised in training. I asked Brenno (Captain Brandon O Neill) if I could take it and he gave me the nod. It was a good way to get off the mark and score my first."
We did talk about team philosophy and without giving too much away Lachlan agreed that they're given a fair bit of creative freedom in the final third of the park.
"If we think we have an opportunity in and around the box we just let it fly. We see what happens. There could be a deflection, keeper parries it, anything can happen. It's what the fans want to see lots of shots on goal. The fans want to see players taking their opportunities."
With almost all of the players operating in the front third scoring goals in the Cup games and pre season the almost 'shoot on sight' policy is very evident. Team bonding and mentoring from the senior players came into the conversation. Bayliss said that there is plenty of positivity in the team, even if things might not go to plan, the senior players are giving good advice and in a positive way.
I ended our conversation with a question that Lachlan did ponder on for a while. If you could pick a teammate from this squad for your Fantasy League team who would it be?
"I think I'd pick Stama. He'd be my striker I'd put in my team."
And for the record Dane Ingham and Mark Natta are the perennial strugglers in the table tennis duos. Kosta Grozos and Clayton Taylor seem to be claiming championship status.