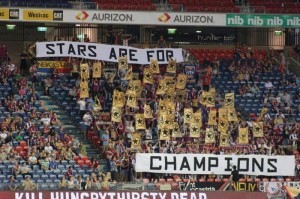 The Squadron FSC is pleased to announce that the first ever Open Tifo Workshop will be held this Sunday 12th January at District Park Tennis Club starting at midday in the auditorium.
Among our aims is not just to bring new people into the active support bays who are interested in becoming involved, but also to spread the colour and involvement around the stadium to add to the atmosphere for our home games. Active support is not just about singing, chanting, drums etc it is also about flags, banners, standards and tifo displays. This is where the general supporter base in the rest of the stadium, who may not be interested in singing for 90 minutes, can still add to the colour and atmosphere at a football match by waving a flag, holding up a standard or having a banner on the fence.
To this end, any Newcastle Jets supporter that would like to make up a flag to wave or a two-stick banner (also called a "standard") to hold up is invited to come along to the Tenzo this sunday to see what goes in to making these items and you will then be able to make your own flag or standard to take home with you to bring along to future Jets games. Once your flag/standard is completed – its yours!! You just need a piece of dowel or an open plastic "conduit" to use as a pole and you will be ready to wave it on gameday.
The Squadron FSC will provide the material (blue/red/gold/white), sewing equipment, projectors, paint, brushes etc to make the items so all you will need to do is bring along your design to make up on the day or choose a design from our templates.
If you are wanting to make your own flag design, you will need to have some sort of sketch to work from if your flag is a simple colours with no artwork.
If you have your own logo, artwork or letters to paint onto a flag or standard you will need to have this saved onto a memory stick/thumbdrive (save your file as a JPG or BMP file to a high res as possible) to bring along so it can be traced onto the material. Be aware that we will only have blue, black or white paint if other colours are needed for your design you will need to bring them with you.
We look forward to meeting you on Sunday
The Squadron FSC Committee